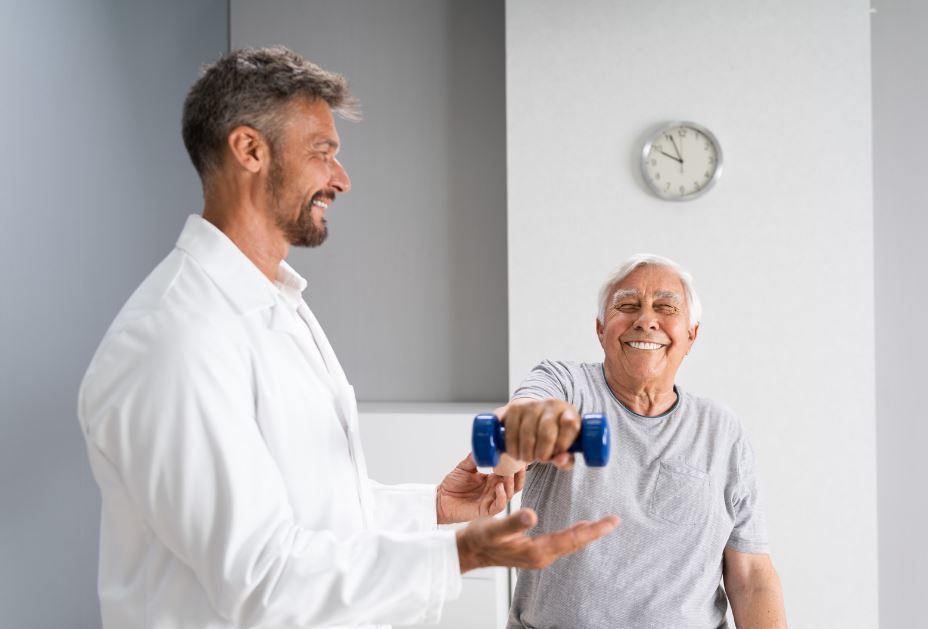 When it comes to your health and well-being, convenience and personalized care matter. Introducing the pinnacle of in-home physical therapy services in Hunterdon County, where expert care comes to your doorstep, tailored to your unique needs.
Our team of experienced and skilled therapists specializes in providing top-notch in-home physical therapy. We bring our expertise to you, offering personalized treatment plans that address your specific goals, challenges, and medical needs. Our commitment to your well-being drives us to deliver the best care possible.
Beyond the therapeutic exercises, we foster a strong personal connection with our patients. Our in-home approach allows us to understand your daily challenges and provide guidance that extends beyond the session. We're not just therapists; we're partners in your recovery journey.
Why Choose Us? Synaptic Rehabilitation in Hunterdon County, NJ
Expertise in Home-Based Care: Synaptic Rehabilitation specializes in delivering top-tier in-home physical therapy services. Our team is composed of experienced therapists who have a deep understanding of providing effective and safe care in the comfort of your own home.
Tailored Treatment Plans: We believe in personalized care. Our therapists create customized treatment plans that address your specific needs, goals, and circumstances. This individualized approach ensures that you receive the most targeted and efficient care possible.
Convenience and Comfort: Choosing Synaptic Rehabilitation means receiving exceptional care without the hassle of traveling to a clinic. We bring our expertise to your doorstep, making your healing journey more convenient, comfortable, and stress-free.
Cutting-Edge Techniques at Home: Our commitment to delivering the best possible care extends to the techniques and methods we employ. Our therapists are trained in the latest advancements in physical therapy, ensuring that you benefit from evidence-based practices without leaving your home.
Compassionate Partnership: Beyond being healthcare providers, we are your partners in your journey to recovery. We understand the challenges you face and work closely with you to provide not only physical therapy but also emotional support, guidance, and encouragement. With Synaptic Rehabilitation, you're not just a patient; you're a valued individual on a path to improved health and well-being.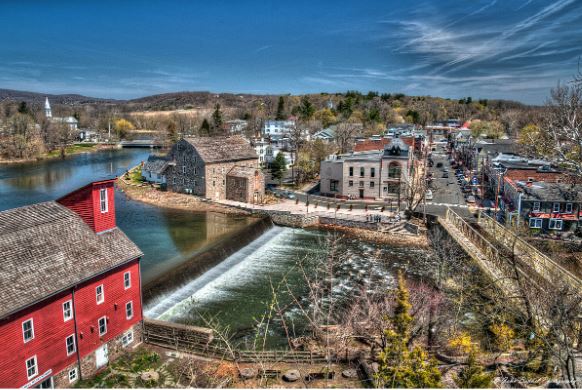 Hunterdon County, NJ: Tracing the Path of History Through Time
Hunterdon County, NJ: Tracing the Path of History Through Time
The rich and varied history that has molded Hunterdon County's environment, culture, and identity throughout the years is evident in this county's location in the center of New Jersey. The county's history is a tapestry woven with tales of resiliency, development, and the blending of diverse cultures, starting with its indigenous beginnings and ending with its participation in the American Revolution.
Indigenous Beginnings:
Long before European settlers arrived, the land that would become Hunterdon County was inhabited by the Lenni Lenape people. These indigenous inhabitants lived in harmony with the natural surroundings and established a connection to the land that continues to be respected and acknowledged today.
Colonial Era and Early Settlement:
The 17th century marked the arrival of European colonists, who were drawn to the fertile soil and abundant resources of the region. The establishment of settlements brought forth a blend of cultures, with Dutch, English, and German settlers contributing to the county's cultural diversity.
Revolutionary Significance:
Hunterdon County played a pivotal role during the American Revolution. The county's strategic location along major transportation routes and its proximity to the Delaware River made it a crucial center of military and logistical activity. Washington's Crossing, a historic event that took place on the Delaware River, is a testament to the county's significance during this transformative period in American history.
Agricultural Heritage:
Throughout its history, Hunterdon County has been closely tied to agriculture. The fertile land and favorable climate enabled the growth of various crops, and the county became known for its agricultural output. Farms and homesteads played a crucial role in sustaining the local population and contributing to the county's economic development.
Transportation and Industry:
The county's strategic location continued to influence its growth in the 19th century. The construction of canals and railroads facilitated the movement of goods and people, leading to the development of industry and commerce. Mills, factories, and ironworks sprouted, contributing to the county's economic vitality.
Preserving History:
Hunterdon County's commitment to preserving its history is evident in its well-preserved historic sites and landmarks. The Red Mill Museum Village, a picturesque collection of historic buildings, provides a glimpse into the county's industrial past. The county's dedication to conserving its heritage ensures that future generations can connect with the past.
Cultural Diversity and Growth:
As the 20th century unfolded, Hunterdon County continued to evolve. The county's cultural diversity expanded, with various communities contributing to its vibrant tapestry. The growth of suburban communities and the influx of residents seeking a blend of rural charm and modern amenities led to a unique blend of old and new.
A Living Legacy:
Today, Hunterdon County is a reflection of its rich history. Its preserved landmarks, museums, and cultural institutions allow residents and visitors to step back in time and connect with the past. The county's commitment to preserving its history while embracing modernity creates a dynamic environment where tradition and progress coexist harmoniously.
Hunterdon County, NJ: Unveiling a World of Experiences and Adventures
Hunterdon County, located in the center of New Jersey, offers a variety of intriguing activities that are intended to appeal to a variety of interests. The county provides a tapestry of experiences that appeal to both residents and visitors, from the enchantment of nature to the beauty of history. Let's go out on a tour to discover the countless opportunities Hunterdon County has to offer.
Nature's Embrace in Parks and Trails:
Hunterdon County's natural beauty beckons outdoor enthusiasts to explore its parks and trails. Vast expanses like Round Valley Recreation Area and Spruce Run Recreation Area offer opportunities for hiking, fishing, picnicking, and boating amidst tranquil lakes and lush woodlands.
Dive into History's Chronicles:
The echoes of history come alive in Hunterdon County through its historic sites and landmarks. Discover the Red Mill Museum Village, an open-air treasure trove showcasing historic buildings and artifacts that unveil the county's industrial heritage. The Solitude House Museum and other sites offer glimpses into its colonial and Revolutionary War past.
Culinary Adventures Await:
For epicurean enthusiasts, Hunterdon County's culinary scene is a true delight. Immerse yourself in farm-to-table experiences at local farmers' markets and vineyards. Relish artisanal cheeses, wines, and fresh produce, or dine at charming eateries offering diverse cuisines – from comforting American classics to globally inspired flavors.
The Tapestry of Arts and Culture:
Artistry thrives in the vibrant communities of Hunterdon County. Traverse galleries, studios, and cultural hubs spotlighting the talents of local artists. Engage in live performances, theater spectacles, and musical concerts at renowned venues such as the Hunterdon Art Museum and the historic Bucks County Playhouse.
Stroll Through Quaint Towns:
Hunterdon County is adorned with picturesque towns exuding character and charm. Meander along the historic streets of Clinton, where boutique shops, art galleries, and the iconic Red Mill transport you to a different era. Explore Flemington's Main Street, adorned with unique boutiques, antique stores, and inviting cafes.
Embrace Nature's Beauty at Gardens and Orchards:
Hunterdon County invites you to bask in the splendor of its gardens and orchards. Duke Farms, an expansive estate, showcases resplendent gardens, walking paths, and sustainable initiatives. During warmer seasons, engage in the joy of picking your own fruits at local orchards, immersing yourself in rural pleasures.
Adventure Awaits Outdoor Enthusiasts:
Thrill-seekers have their playground in Hunterdon County. Embark on horseback riding escapades through scenic trails, or take to the skies with hot air balloon rides, providing sweeping vistas of the county's breathtaking landscapes from high above.
Festivals and Celebrations Galore:
Hunterdon County's calendar is brimming with festivals and events that honor its culture and community. From the Hunterdon County 4-H and Agricultural Fair to art showcases and seasonal festivities, these gatherings foster camaraderie and etch unforgettable memories.
Equestrian Enthusiasm Unleashed:
For horse lovers, Hunterdon County's equestrian centers and farms offer a sanctuary. Whether a seasoned rider or a curious beginner, indulge in horseback riding lessons, trail explorations, and equine-themed activities that allow you to connect with these majestic animals.
Culinary Delights: Exploring the Finest Dining Destinations in Hunterdon County, NJ
Hunterdon County, New Jersey, offers a delightful fusion of natural beauty and culinary quality. It is located in the scenic Garden State. Hunterdon County has established itself as a refuge for food lovers looking for a variety of delectable dining experiences because to its rolling hills, ancient villages, and thriving local culinary culture. In Hunterdon County, there are many excellent restaurants where you can savor a variety of cuisines that pay homage to the area's rich tradition and creative spirit. This article will walk you through some of the greatest options.
The Clean Plate Kitchen
Situated in the town of Clinton, The Clean Plate Kitchen is a farm-to-table gem that emphasizes locally sourced, organic ingredients. The menu features a fusion of classic and contemporary American cuisine, with dishes like grass-fed burgers, seasonal salads, and creative vegetarian options. The restaurant's commitment to sustainability and freshness ensures a memorable dining experience.
Metropolitan Seafood & Gourmet
For seafood enthusiasts, Metropolitan Seafood & Gourmet in Lebanon is a must-visit. With a reputation for offering the freshest catch from around the world, this seafood market and restaurant tantalizes taste buds with its selection of raw oysters, succulent lobster rolls, and expertly prepared fish dishes. Their dedication to quality and flavor has earned them a loyal following.
The Ship Inn
If you're looking for history along with your meal, The Ship Inn in Milford provides a unique experience. Established in 1995, this British-style pub is known for its house-brewed ales and hearty pub fare. The rustic atmosphere and traditional dishes like bangers and mash or fish and chips transport diners across the Atlantic to the charming pubs of England.
Caffe Galleria
For a cozy and artistic ambiance, Caffe Galleria in Lambertville offers a delightful combination of food and culture. This café-gallery hybrid serves up a variety of comfort foods, sandwiches, and salads, along with a selection of homemade desserts. The walls adorned with local artwork add to the charm, creating a welcoming space to savor your meal.
Matt's Red Rooster Grill
Matt's Red Rooster Grill in Flemington is a culinary gem that brings together American and Mediterranean influences. The chef-driven menu highlights seasonal ingredients and inventive flavor combinations. From wood-fired pizzas to succulent steaks, the diverse offerings cater to a wide range of palates.
The Frenchtown Inn
Nestled in the riverside town of Frenchtown, The Frenchtown Inn is an upscale dining destination known for its refined New American cuisine. With an ever-evolving menu that showcases locally sourced ingredients, this restaurant provides a sophisticated dining experience perfect for special occasions or romantic evenings.
Conclusion
Hunterdon County, NJ, boasts a rich tapestry of culinary experiences that cater to a wide range of tastes and preferences. From farm-to-table delights to historic pubs, seafood feasts to elegant dining, the county's diverse food scene offers something for everyone. Whether you're a local resident or a visitor exploring the area, these exceptional dining establishments invite you to savor the flavors of Hunterdon County while enjoying its natural beauty and warm hospitality. So, embark on a gastronomic journey and indulge in the delectable offerings that make Hunterdon County a true culinary paradise.