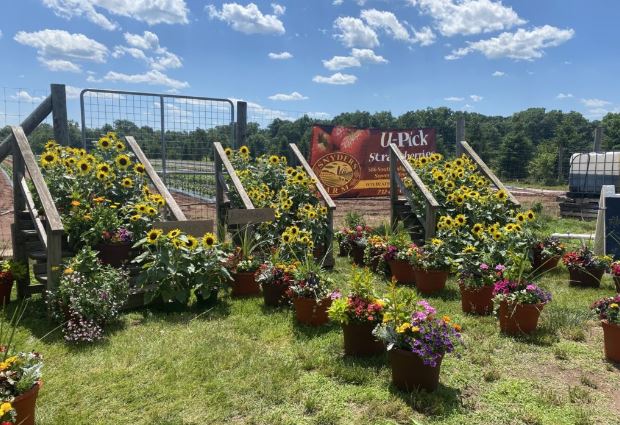 Snyder's Farm, a hidden gem that provides a delightful escape from the hustle and bustle of daily life, is tucked away in the heart of New Jersey. This family-owned farm is a great vacation spot for people of all ages because it offers beautiful scenery, delightful activities, and a variety of seasonal events. Snyder's Farm has activities for everyone, whether you're a fan of the outdoors, an adventure seeker, or just looking for a day of family-friendly fun. Let's get into the top Snyder's Farm activities.
Explore the Lush Fields and Gardens
As you step onto Snyder's Farm, you'll be greeted by sprawling fields and vibrant gardens that are a sight to behold. Take a leisurely stroll and immerse yourself in the beauty of nature. The farm offers guided tours where knowledgeable staff share insights about the various crops and plants grown on the premises. From sunflowers to pumpkins, each season brings its own unique charm, ensuring a fresh experience on every visit.
Engage in Exciting Outdoor Activities
Snyder's Farm is an adventure lover's paradise, with an abundance of outdoor activities to enjoy. Put your skills to the test at the farm's challenging corn maze, where navigating through twists and turns will keep you entertained and on your toes. For those seeking a bit of competition, the farm hosts friendly pumpkin and apple picking contests that bring out the competitive spirit in visitors of all ages.
Delight in Farm-to-Table Experiences
One of the highlights of visiting Snyder's Farm is the opportunity to savor fresh, farm-to-table delights. The farm's market showcases a wide range of locally grown produce, including crisp apples, juicy tomatoes, and flavorful herbs. Indulge in homemade treats such as apple cider donuts, seasonal pies, and freshly squeezed lemonade. The farm also offers cooking classes where visitors can learn to create delicious dishes using ingredients harvested right from the fields.
Immerse Yourself in Seasonal Festivities
No matter the time of year, Snyder's Farm embraces the spirit of the season with its vibrant events. During the autumn months, the farm transforms into a fall wonderland, with pumpkin patches, hayrides, and a corn maze that beckons visitors to get lost in the fun. Come winter, Snyder's Farm becomes a magical destination with its festive holiday lights, Santa visits, and the opportunity to cut down your own Christmas tree. Each season brings a unique celebration, ensuring that every visit is a memorable one.
Enjoy Educational Farm Tours
Snyder's Farm takes pride in educating visitors about the importance of agriculture and sustainable farming practices. The farm offers guided tours that provide valuable insights into the process of growing crops and raising livestock. Learn about the different stages of plant growth, witness the care and nurturing of farm animals, and gain a deeper understanding of the farm's commitment to sustainable farming methods. These educational tours are not only informative but also provide a hands-on experience for children and adults alike.
Plan Your Visit to Snyder's Farm Today!
With its idyllic setting, engaging activities, and warm hospitality, Snyder's Farm is an ideal destination for a day of wholesome family fun or a peaceful retreat for nature lovers. Whether you're captivated by the stunning landscapes or eager to indulge in farm-fresh treats, Snyder's Farm promises an experience that will leave you with cherished memories. So, pack your bags, gather your loved ones, and embark on an unforgettable adventure at Snyder's Farm in New Jersey.