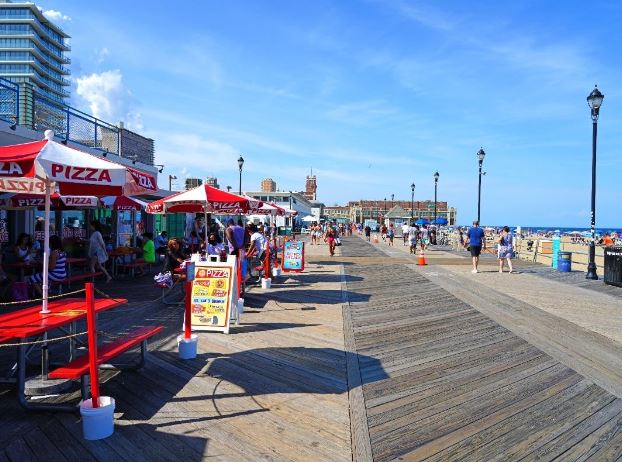 Located on the picturesque Jersey Shore, Asbury Park, New Jersey, is a coastal town that has undergone a remarkable transformation in recent years. Once a faded resort town, Asbury Park has experienced a revival that has brought a fresh vibrancy to its shores. In this article, we'll explore the history, attractions, and the cultural renaissance that makes Asbury Park a must-visit destination.
A Brief History: From Glory to Decline
Asbury Park has a storied history dating back to the late 19th century when it was founded as a seaside resort. The town experienced its heyday in the early 20th century, attracting vacationers and celebrities to its iconic boardwalk, grand hotels, and lively entertainment scene. However, by the late 20th century, Asbury Park had fallen into disrepair, with vacant buildings and a struggling economy.
The Renaissance: A Revival of Spirit
Asbury Park's resurgence began in the early 2000s, marked by a renewed interest in its potential. A key player in this transformation was the Asbury Park Music Foundation, which sought to revitalize the town through music, arts, and culture. Today, Asbury Park boasts a vibrant arts scene, thriving music venues, and a dynamic community of artists, musicians, and entrepreneurs.
The Iconic Boardwalk: A Stroll Through History
One of Asbury Park's most iconic features is its boardwalk, which stretches along the coastline. The boardwalk underwent extensive renovations, preserving its historic charm while adding modern amenities. Visitors can take leisurely strolls along the boardwalk, lined with shops, restaurants, and arcades. The Asbury Park Convention Hall and Paramount Theatre, both historic landmarks, host concerts, events, and art exhibitions throughout the year.
Beaches and Waterfront Fun
Asbury Park's pristine beaches have long been a draw for visitors. Whether you're looking to soak up the sun, swim in the Atlantic Ocean, or try your hand at surfing, the town's coastline offers endless opportunities for relaxation and recreation. Surfers, in particular, appreciate the consistent waves and the welcoming surf culture that thrives here.
Live Music and Entertainment
Asbury Park has earned its reputation as a music lover's paradise. The town has a rich musical history and is closely associated with legends like Bruce Springsteen. Today, music enthusiasts can catch live performances at venues like The Stone Pony, House of Independents, and the Wonder Bar. The annual Asbury Park Music and Film Festival is a highlight, celebrating the town's musical heritage and raising funds for charity.
Art and Culture
The town's artistic renaissance extends beyond music. Asbury Park has become a hub for visual artists, with numerous galleries and studios showcasing a diverse range of creative talent. The city's commitment to the arts is evident in its public art installations, including murals and sculptures that adorn the streets, adding to the town's colorful character.
Culinary Delights: Dining and Nightlife
Asbury Park's dining scene has blossomed, offering a wide range of culinary experiences. From seafood shacks serving fresh catches to trendy restaurants with farm-to-table menus, there's something to satisfy every palate. The nightlife in Asbury Park is equally dynamic, featuring nightclubs and bars that draw a variety of people, from craft beer enthusiasts to dance music aficionados.
Festivals and Events
Throughout the year, Asbury Park hosts a variety of festivals and events that celebrate its culture and community. The Asbury Park Film Festival showcases independent cinema, while the Asbury Park Zombie Walk attracts thousands of participants dressed as the undead. The LGBTQ+ community is embraced with events like the Jersey Gay Pride Festival and the annual QSpot LGBTQ+ Film Series.
A Place to Call Home
Asbury Park's revival has not only attracted visitors but also new residents who are drawn to its unique charm and vibrant atmosphere. The real estate market has seen a resurgence, with many historic properties being lovingly restored. Whether you're looking for a summer retreat or a permanent residence, Asbury Park offers a range of housing options, from beachfront condos to Victorian-era homes.
Conclusion
Asbury Park, New Jersey, has undergone a remarkable transformation from a faded resort town to a thriving cultural and artistic hub on the Jersey Shore. Its rich history, iconic boardwalk, live music scene, artistic community, and beautiful beaches make it a destination that appeals to a diverse range of interests. Asbury Park's resurgence is a testament to the enduring spirit of this coastal gem and a compelling reason to explore all it has to offer.